History of Staplers
Staplers were formed in 1958 in Hitchin, Hertfordshire.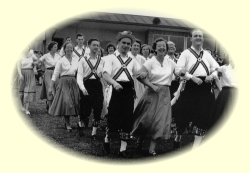 The name Staplers is nothing to do with holding pieces of paper together but is a quantity of wool. Much of the wealth of Hitchin in times past came from the wool trade and evidence of this can be seen in the Hitchin Parish church — St Marys.
The club colours are lavender and straw which represent two trades which were very important to the town. Lavender was grown extensively to produce oil for Victorian and Edwardian ladies to smell nice. Interestingly the industry is being revived by Hitchin Lavender who have planted a field near Ickleford.
The straw colour represents 'straw plaiting' which was performed as a cottage industry by many to feed the hat factories in nearby Luton. Straw boaters are part of our display costume.